So I set a little project for myself this year with the Bailey's Prize. Initially I intended to read every book on the longlist. Many of the books were already on my TBR, so I didn't think it would be too much of a challenge. I started with the ones that most interested me and ended up reading and loving both 'The Gustav Sonata' by Rose Tremain and 'The Lonely Hearts Hotel' by Heather O'Neill before the shortlist was announced, and sadly neither made the cut. I was half way through my fourth book on the shortlist  when it was announced, so I figured I would just complete the shortlist for now and eventually get to the others when I felt like picking them up.
As I've now completed the shortlist I thought I would do a little round up. I won't include synopsis' as it will just make this wayyyy too long. I'll note how many stars I gave each, sum up my thoughts briefly (and messily) in terms of likes and dislikes, and link any reviews for ones I wrote about at length. Starting from #6, I'm counting down from my least favourite to favourite. Clearly, these are just my personal opinions, and I would love to hear yours if you've read any of these! I'll make my winners prediction at the bottom. So, here goes!:
'First Love' by Gwendoline Riley
Gave it: 
Liked: Not much to be honest. I'm thankful that it was short, if anything (Although if it was longer I may have liked it better!) It was also an easy read, a quick read, and the characterisation was decent enough considering we had less than 200 pages to get to know them.
Disliked: The clunky, abusive dialogue. I get that I was supposed to hate Edwyn, and dislike the way he spoke to Neve throughout, but I heard a lot of people commenting that the dialogue was natural. For me, it was forced and excessive in order to shape a character that would have otherwise lacked depth in such a short amount of pages. I also just disliked the characters themselves. I understood that I was supposed to feel for Neve, but her nonchalance towards her situation irritated me and prevented my sympathy. More in my review, if you fancy reading it!
'The Sport of Kings' by C. E. Morgan
Gave it: 
Liked: The bones of the novel, the overall story. I grew to like Henrietta and Allmon and the novel became infinitely more readable for me during interactions between these two characters. I also admire the themes and the overall message the novel is trying to bring to light.
Disliked: This was just too long, too ambitious, and at times it felt overwritten. Long chapters are separated by just as long interludes that had little to do with the overall plot and felt more like the writer eager to show off how well she can write (although to be fair, she does write quite well.) Too much use of the 'n' word, especially for a white author, regardless of the context. Also, I just don't like horse racing and this was always going to distance me. In hindsight, maybe this is only a 2 star, but read more of my thoughts here!
'The Power' by Naomi Alderman
Gave it: 
Liked: Rather enjoyable if you take it as just a quick, fun read. The multi character POV's were clear cut and all very different from each other, giving diverse and interesting viewpoints. Fast paced. Sci-fi – A little something different, lighter than the others in the list. The concept of women being physically superior to men worldwide, to be considerably more dangerous and the implications of that gave me a lot to think about.
Disliked: That it's being showcased as a work of 'feminist' fiction. It totally could have been that, I just wouldn't call this an innately feminist work. I also didn't like the characterisation of 'Roxy' – Cockney's just don't speak like that, her dialogue was jarring and cringe worthy. The ending was open ended (which I understand a lot of people would have liked), but it just fell short for me. Also 'the power' itself is pretty underdeveloped, a bit vague. A lot more work could have been done to explain how it develops, how it's triggered, why has it taken so long for a revolution if women had always had this ability?
'Do Not Say We Have Nothing' by Madeleine Thien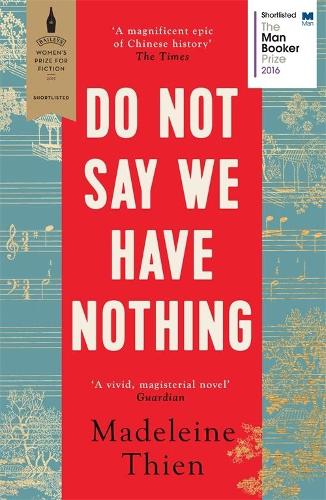 Gave it: 
Liked: A whole lot actually. The writing was beautiful, some passages felt very fable-like. The characters were all unique and wonderfully brought to life. It was very sad at times, but powerful and the hard moments were necessary. It's a very emotive insight into China at the time, and also it's clever how Thien weaves in how this still has its affect on families generations after the revolution. It looks at identity and culture, family ties and loyalty. There's classical music swirled throughout, and it was wonderful to read about the characters passions for it. For quite a long book, it really didn't feel like it, I was eager to read on. It constantly switches timelines and I think this helped keep my interest piqued.
Disliked: Honestly, I felt a little disappointed in the ending, a little let down! I think for such an emotional novel I wanted more of an emotional payoff at the end. Again, this was ambiguous and it felt cut off at a point where she was running out of story to tell rather than rounded up in a satisfactory way.
'The Dark Circle' by Linda Grant
Gave it: 
Liked: The time period, the unique setting, the bold and unconventional characters. I loved the dialogue and the different interactions between each of the patients in the sanatorium. Alderman take note – this is how you write cockney teenagers. There was warm moments, funny moments, sad moments. I got some serious 'One Flew Over the Cuckoo's Nest' vibes from this, as a character comes into the sanatorium and changes the pace and dynamics of those living in it, and I really liked that. Beautifully written throughout, I definitely want to pick up more from Linda Grant. As quiet and inconsequential as some may see it, this is just a damn good story.
Disliked: Again, the ending of this is probably it's only downfall for me. It just felt a little rushed. All of a sudden a bunch of the characters have gone on holiday and you don't really know where you are, or why you've been wrenched out of the story so quickly. It did all make sense in the end, and I did feel we left the characters at a natural place… Maybe I just wanted more!
'Stay With Me' by Ayobami Adebayo
Gave it: 
Liked: Oh god, this was just brilliant. The writing itself is just beautiful and I can't wait to read more from Adebayo in the future. Although she has written short stories, this is her debut novel (to my knowledge?!) and she seems relatively young and this is just hella impressive if you ask me. The way she writes about being a mother and how the characters deal with such heartbreaking and tragic events, is so powerful. I love that you're not sure who you feel for most at different parts of the story. It's interesting to see how cultural and familial pressures are so much more prominent in certain places of the world (this is set in Nigeria), and although I can't understand these pressures from experience, I think they were written about with integrity and understanding.
Disliked: If anything, my only negative comment would be that the ending (again!), may have come across as slightly predictable. Having said that, these characters had such a hard time and they deserved that happy ending goddammit! So, that's not really a dislike at all. Oh – but I don't like the UK cover. So I featured the upcoming American one instead. Bite me!
And now for my Winner prediction!: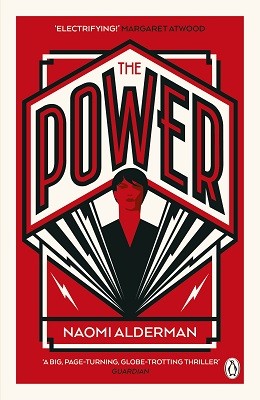 'The Power' by Naomi Alderman
Why?: There's no question that this one stands out from the other novels in this list. Although I personally find this one the least well written, it's fast paced nature, interesting concept, and multi-narrative perspective is going to do a lot for this book. Margaret Atwood is quoted on the front of both the hardback and the newly released paperback, and as Alderman's mentor this is going to do a lot for this book as well. As much as I don't personally consider this a very feminist read, the fact its being marketed as such as going to act as a buzz word for people wanting to show support for such a book. Ultimately, I just have a feeling. I may be wrong – but we shall see!
Thanks so much for reading, especially if you read all my thoughts (sorry if they're a bit jumbled), I really appreciate it!
Please do let me know in the comments section if you have read any of these and what your thoughts were. Also, who do you think will win and why?
Jess